Montaukett Library Collection Damaged
On the evening of Wednesday, October 19th, a highly pressurized water pipe burst in the Montaukett library on the Eastern campus, damaging hundreds of books. I spoke with Head Librarian Dana Antonucci-Durgan about the matter.
After the library closed Wednesday evening, Public Safety staff discovered the leak in the library. Along with Plant Operations staff, they urgently began working to salvage as many titles as possible, while simultaneously attempting to stop the leak. Because the pipe was highly pressurized, there was a significant amount of water being released very quickly, ultimately damaging nearly 500 books. The next day, library and clerical staff began sorting through the remains and determining whether or not certain books could be salvaged. Books that were believed to be salvageable were taken to another room in the library, stood up on tables with spread pages, and dried with fans; non-repairable books were logged and discarded. Titles that are frequently checked out by students and faculty will be replaced, while titles that are no longer being actively checked out will not. At the time of this writing, the library is working to replace the ruined titles by checking if other (SCCC) campuses may have extra copies, and also by adding to the libraries electronic book collection.
The leak partially damaged the Long Island History collection and the social science collection, along with a few other miscellaneous titles. Unfortunately, there is no additional funding for the loss of these titles, so the library will be using its current budget to replace and update the damaged books.
For more information, Antonucci-Durgan may be contacted at [email protected].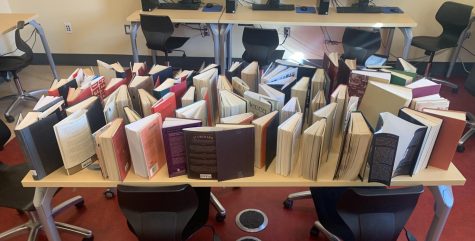 Leave a Comment